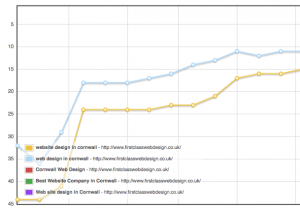 We have been working closely with a local SEO company to improve our rankings and popularity in Google. The results so far have been very encouraging. First Class Web Design is now ranked on page 1 in Google for specific key phrases such as 'Web Design in Cornwall' and 'Website Design in Cornwall'. Two phrases that we identified as being the most searched by users looking for our services.
Since the meeting we have been working hard on improving every aspect of our 'on-page' presence and Pete, the SEO guy, has been weaving his magic to improve all aspects of our 'off-page' score. The results speak for themselves and as you can see below. We have risen from position 40 and 29 to 4 and 3 respectively for those 2 keyphrases in a matter of 2 short months.
Now that this partnership has been proved to work we will shortly be offering a new SEO service to all our existing and new clients. We will be sending out information shortly with an outline of the service being offered along with some indicative pricing based on our experiences. So if you run a business and are thinking about additional search engine optimisation to improve your rankings this could be a great opportunity to get real results at a realistic price.
One final piece of advice: If you have been contacted by other companies offering 'amazing results' and 'guaranteed top positions' etc please take time to research their credentials and ask how they intend to prove the ROI (return on investment). Also ask for contact information of other clients that you can talk to about their experiences working with that company. Yes, that's pretty obvious advice but it seems that there are lots of unscrupulous companies popping up (especially outside the UK) that are jumping on the SEO bandwagon and praying on business owners lack of knowledge in this area – please don't let that be you.
Here is the proof (click image to enlarge)