These days businesses are looking for anything that will give them the edge over their competitors. Of course investing in a good quality website that is well managed and kept up to date should be one of the main priorities for any serious business – large or small.
However, aside from the obvious advantages to having a great website business owners should also be looking around for other marketing opportunities and ways of making their potential customers aware of their business and services. Here at First Class Towers we don't have massive advertising budgets or spare cash to throw at merchandise or free gifts so we are always looking for cost effective ways to get the word out locally (as 80% of our clients live within a 20 mile radius – so it kind of makes sense!).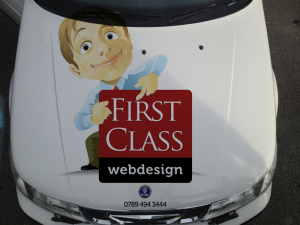 So we've taken this advice onboard ourselves and used the company car to work a little harder and do some 'offline' marketing for us. Well it is white and was crying out for a splash of colour!
Using the car to advertise the business has many advantages:
It's mobile so can be in lots of places
It's very cost effective compared to paper advertising
It doesn't become tomorrow's fish and chip wrappers
It makes a statement about your business
It reinforces your brand
So, has it brought us any business you might be asking yourselves? Well we have only had it on the road for just over a week and already have had one confirmed project as a direct result of seeing the car and another enquiry pending – that's 2 new clients at total cost around £250.00! A pretty good return on our investment there I think you would agree.
So if you already have a fantastic website, great. Now start looking for other ways to drive customers to it. Getting decals on your company vehicle may not be a new idea but it's certainly worked for us and may work for your business too. Good luck.