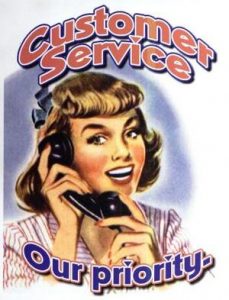 For those of you, and there will be many, who are dissatisfied with their current web company for whatever reason, this post is for you. Here's a typical scenario you may be familiar with…
You've been trading for a while and decided it' was time to take the plunge and spend some money on getting a proper professional website to replace the homemade one that your next door neighbour offered to build you in his spare time. It didn't cost you much, in fact you can't even remember paying for it  (AND IT SHOWS!) In fact you were pretty embarrassed whenever somebody asked if you had a website so it was getting pretty urgent that you found a company to redesign the site.
So you looked through the internet and found a couple of decent looking local companies. You made a few phone calls and you get a few quotes. They all seemed quite high but websites costs a lot of money don't they? So you commissioned one of the companies – The Really Friendly Web Company – you quite liked the sales guy, Kevin, he seemed pretty genuine and you like some of their work – everything was good.
Six months later the site was still not finished and the company asked for a little bit more money – because you "changed the spec" (even though you can't even remember seeing an original spec sheet!). You pay the additional invoice – begrudgingly, the website is so close to going live now you didn't want to jeopardise things at this late stage. Three months later the site was 'almost ready, just some user testing and the site could go live – yippee!
The site finally goes live and you were really happy. Everyone loved the new site, even though it was expensive and late, it's still great. Now you felt like you belong, you felt part of the internet fraternity, sales were bound to go through the roof now, life was good.
The company even provided you with 3 months support, seemed useful, but you only made one small change in the first three months which you could do yourself. You just had the CMS training so you wanted to put it to good use! Three months after that you couldn't understand why nobody could find your website – surely it should be number 1 by now? Or at least on the first page, you looked, you tried every search possible and eventually you found it – on page eleven!
Mmm, not sure what to do next so you call the Really Friendly Web Company who built the site hoped they could find a way to get it up there, after all they are the experts. You leave a message and you get a call back the same day – wow that's what you call service – you are so glad you found them… Yes they can help, well not exactly, they know a company who specialise in SEO, they will be the best people to talk to – but what about your Really Friendly Web Company, aren't they supposed to do all that? Apparently they only do the bare minimum, the rest costs MORE MONEY!
OK, so you had a chat with the SEO people, ouch they are really expensive and you certainly can't afford to shell out again – after all you are still paying off the new website! Well at least they gave me some tips and there's lots of info on the internet, surely you can do it yourself, it can't be that difficult?
Three months later, your site is now on page four. You've done pretty well but the site is not generating the huge amount of enquiries you had hoped. You start to get a bit disgruntled with the website. You've run out of good news stories to put on the home page and you haven't got a clue what a blog is never mind what to write in it! You concentrate on other forms of marketing, you start to put a few ads in the paper, you try Google Adwords – surely that will generate sales??
Three months later you are still not getting many enquiries but you still like the website. After all it is exactly the same as it was 12 months ago, what's there not to like? You've been it's biggest fan – in fact half the hits to the site are probably yours. But you want to make some changes – you read that SEO relies on websites being updated regularly – now where's that login to the CMS? Damn, who deleted the email!! Oh well back to the Really Friendly Web Company…
You call, leave a message, they don't reply. You call again – "Oh Kevin left us 2 months ago, your speaking to Oliver how can I help? Yes, CMS logins, Yes, Yes.." Well we can't help right now but will create a support ticket which should be answered within 48hrs, just check your email". But you wanted to make the change now – oh well what's another couple of days?
A week later you ring again, "Sorry our support department are very busy we will try to respond o the ticket later today". You wait. And wait.
Eventually, the next day you get sent new login details – woohoo! You login, now where is the widgetty thingy that I have to change? Oh yes, Oh No, Ah here we go…" and so it goes on for another 45 minutes – then you give up.
You start to hate your website. You can't remember how to update it. It disappears off the radar.
You call the Really Friendly Web Company again. Yes, your through to a new sales guy – he can't help. They only build websites, they don't offer any support after 3 months. OK, you are desperate it's time to find a new web company…
Does any of the above sound familiar?
So what makes us different?
Here at First Class Web Design we pride ourselves on delivering projects within the timescales we set ourselves (realistic timescales not fantasy ones).
We never charge more than what we quote. If we don't get the quote right that's our fault – not yours!
We build all our sites with more than the bare minimum SEO and work with SEO experts to provide a full on-page and off-page service.
We provide FREE 12 months support after the site is launched
We offer a range of very affordable website support packages to cover updates, support, training and hosting.
We are small enough to care about your business and your website
We don't employ anyone called Kevin!
Finally, and most importantly, we want your website to grow from strength to strength. We rely on our clients passing on their good experiences with us.
So if you need to transfer to a new web company, why not contact us or call us on 07894943444. We will manage the whole process for you and before you know it you'll have fallen in love with your website again!